24.06.2016
EUROPART wins accolade as "Best Brand" for the fourth time
Hagen, 24.06.2016
Readers of the German vehicle sector journals lastauto omnibus, trans aktuell and Fernfahrer have awarded EUROPART the title of "Best Brand 2016" in the category HGV/bus parts dealer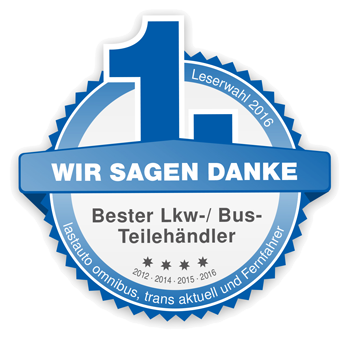 For the fourth time overall and the third time in a row, EUROPART has won the title of "Best Brand" in the HGV/bus parts dealer category. Readers of the German magazines lastauto omnibus, trans aktuell and Fernfahrer have again put EUROPART, Europe's leading dealer in the commercial vehicle and workshop supply sector, in first place thus endorsing its achievements of past years. By awarding EUROPART the title of "Best Brand 2016", the professionals of the transport industry are acknowledging the customer-orientated and proficient services, the rapid and meticulous logistics operations and the vast range of spare parts offered by the dealer.
The deciding factor was the excellent level of product availability sustained by EUROPART through use of sophisticated logistics and maintenance of a large stock of more than 400,000 brand replacement parts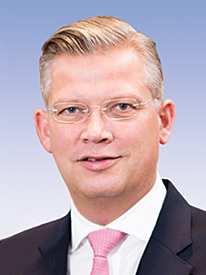 Olaf Giesen
НOn receiving the coveted trophy during the award ceremony in Stuttgart on 23 June 2016, Olaf Giesen, Head of Sales for Germany, Austria and Switzerland at EUROPART, said: "Winning such an outstanding award for the fourth time represents a very real achievement of which we are extremely proud. The fact that they have selected us as "Best Brand 2016" shows that our clients and the whole commercial vehicle branch have come to value our high quality, close contact with customers and our individual services. I should like to take the opportunity to express my special thanks to our personnel whose expertise and commitment to our customers have ensured that they are more than just satisfied with what we have to offer, and has thus resulted in us winning this award.".
After being taken over in 2011, EUROPART has reorganised its activities and now focuses on the truck, trailer and bus market segments. EUROPART also intends to continue to invest in the training of its personnel in future and at the same time plans to extend its workforce.
By designating EUROPART "Best Brand 2016", the readers of the journals published by ETM-Verlag have also indicated their approval of EUROPART's spare part strategy. More than 400,000 items are available and the systematic combination of commercial vehicle spares of leading manufacturers with a selection of spare components and consumables of its in-house EUROPART brand mean that the dealer can meet all requirements and supply suitable parts for all standard HGVs, trailers, buses and transporters. The EUROPART brand range now consists of more than 6,500 articles. In addition to consumables and workshop supplies, such as chemical products, oils and tools, the range comprises axle and brake, chassis, engine, headlight and electrical parts as well as a large selection of other equipment and accessories. All EUROPART brand products are tested in accordance with German quality guidelines through internal audits and external independent organisations.
EUROPART planning major new developments over the next 18 months
Pierre Fleck
In its core procurement areas, such as Turkey, India and Asia, EUROPART will continue to extend its presence to ensure that it will be able to maintain the excellent quality of its own brand products at all times.
"Thanks to our logistics concept, we are able to guarantee our customers maximum product availability irrespective of where they are based in the world. Beginning with Eastern Europe, we will be opening numerous new regional distribution centres – RCDs or hubs – in the next 18 months to make sure that we can keep pace with the ever-growing demand for the rapid supply of products" explains EUROPART's CEO, Pierre Fleck.
EUROPART will be extending its network throughout Europe. EUROPART is already the only specialist dealer in the commercial vehicle sector represented at 300 locations in 28 different countries. "Our aim is to fill the last blank spaces on our map either by means of organisational expansion, cooperation with professional partners or takeovers" adds Fleck.