18.03.2016
EUROPART Successfully Acquires Swedish Parts Dealers LVD and Trailereffekter
Hagen, 17.03.2016
EUROPART Group now a market leader in Sweden, increased branches and a comprehensive logistics network throughout Sweden. LVD and Trailereffekter continue to operate under each respective brand.
EUROPART Holding GmbH has acquired Swedish Parts Dealers LVD and Trailereffekter former members of the Swedish AxDrive Group. The antitrust authorities have now approved the acquisition. EUROPART and Axel Johnson International AB signed the purchase agreement on 29 January 2016. Both parties have agreed not to disclose the purchase price.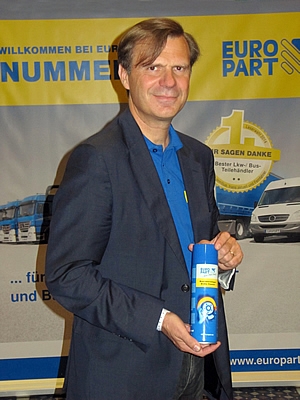 Pierre Fleck
"This acquisition significantly strengthens our position in Northern Europe," explained Pierre Fleck, EUROPART CEO. "EUROPART, LVD and Trailereffekter jointly have over 22 branches in Sweden now. We are the market leader in Sweden, and aim to reach the leading position throughout Europe. Our goal is to be in one of the top three places in every European countries."
Mikael Bornandersson, the EUROPART Country Manager in Sweden, will be responsible for all the three companies' sites in Sweden. "Mikael Bornandersson has been a respected and well established partner to our customers, suppliers and partners in the Swedish market for many years. We are fully confident that he will be successful in this immense assignment", Pierre Fleck (CEO) went on to say.
After the acquisition LVD and Trailereffekter, two traditional Swedish brands, will continue to operate under their original brand names. Each company will retain their respective expertise to ensure a smooth transition and continuity in customer relationships. Mikael Bornandersson said: "Customers will greatly benefit from all three companies extensive commercial vehicle engineering know-how. Whether it is diagnosis, engines or vehicle parts, our specialists can support customers through their diverse knowledge and experience."
This acquisition will further benefit LVD and Trailereffekter customers, as they will have access to EUROPART's offering of more than 400,000 articles. "We have very good relationships with our suppliers and can therefore offer an exceptionally wide range of original spare parts in the LVD and Trailereffekter branches now. We will supply our customers in Sweden with proven brands at the best possible level", said Mikael Bornandersson.
The product offering ranges from spare parts for all current European brands trucks, vans, buses and trailers via workshop equipment to chemicals. Even multi-brand diagnostic devices belong to the assortment. Through interim storage on-site and a regular supply from the central warehouse in Werl (Germany) EUROPART can ensure readily available parts either delivered directly to the customer, or for pick-up at branches in Sweden.
As the only European commercial vehicle parts dealer represented in 27 European countries, EUROPART plays an important role for specific international clients, such as large freight forwarders and transport operators who have offices in several European countries.
LVD Lastvagnsdelar Svenska AB was founded in 1976, and since become a leading supplier of commercial vehicle parts in Sweden with nine sales branches. The Trailereffekter AB was founded in 1977, and specializes in the trade of spare parts for trailers. Trailereffekter operates seven sales branches.